A professional, qualified and registered workforce with the skills, experience and competencies to do the job improves business performance along with staff and member retention.
Why should you employ a PD:Verified Professional?
Our members have registered on PD:Verified under one or more of the following categories:
Tutor
Assessor
Internal Quality Assurer
External Quality Assurer
Each category is underpinned by qualifications that meet the UK occupational standards and a Code of Conduct.
Members must complete 10 hours of continuing professional development (CPD) ensuring that they are keeping up to date with current practice and to maintain their membership.
Whether you are planning to expand internationally or recruit new team members at home, make PD:Verified your first port of call.
Become a Partner
Embed PD:Verified membership within your qualification fee at a special partnership rate as a benefit for learners successfully achieving your tutor, assessor and quality assurer qualifications.
Benefits of being a PD:Verified Partner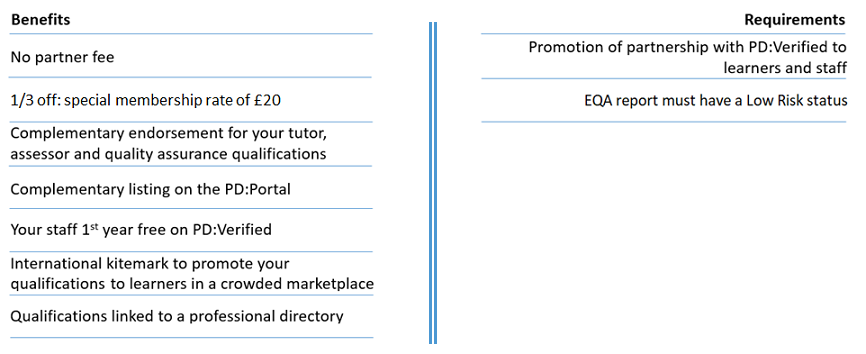 Contact Us